This bodes well for the land and expand strategies of tech companies and not so well for the mythical personal relationship banks have with customers.
TL;DR
Changing customer attitudes and bank's antiquated tech stacks are killing relationship banking, leaving banks vulnerable to competition from tech companies.
Fintechs have built modern and integrated tech stacks to better serve customer segments more economically.
Relationship Banking Test
Relationship banking posits that customers select products from banks they already use and presumably trust. And that these banks are best positioned to understand and serve their customers because of their relationship.
This just isn't true.

Consumers, particularly younger ones, don't discover and choose financial products based on their bank relationship. In truth:
~70% bank digitally because they don't want to visit a branch
~50% don't think banks are that different from one another
3x more likely to close accounts and switch than older cohorts
Let's skip the "next generation changes everything" argument. Instead let's use Frank Rotman's excellent rubrik (highly encourage reading his full post for more detail).
Is it easier or more economical for current customers to access other products from you? Are you able to qualify customers because of your current relationship that others can't?
Are you proactively suggesting and moving customers into the best products based on what you know about them?
Ever applied for a mortgage with a bank where you hold an account to find that you are filling out same information that a brand new customer would?
Ever gotten a maintenance charge on a checking account when the bank offers a free option that you also qualify for?
Then you know the answer to these questions is a resounding NO.
Banks are playing a tough hand. Their tech stacks are a mess, cobbled together over 30 years, making it difficult to serve customers across products. It also makes it expensive for them to support the niche segments that tech companies can profitably serve.
How Do Fintechs Stack Up?
Using modern tech stacks, low opex and a technology-driven mindset, fintechs focus on acquiring the best (i.e. most profitable) or underserved customers as wedge into the market. Solving one customer segment's problem enables them to move into adjacent products and/or customer segments ('land and expand').
Their entire business plan is predicated on being able to answer yes to those questions. Let's look at one of the test questions.
Is it easier or more economical for current customers to access other products from you? Are you able to qualify customers because of your current relationship that others can't?
Remitly's core product is an international money transfer service and many of their customers are thin file immigrants who have difficulty getting a bank account or many not have a SSN. No problem, they released a bank account that using international identification documents and no SSN to KYC a user.
How do you think these users will send money internationally from their new bank accounts? The virtuous cycle spins. It's easy to imagine Remitly growing into loans and other products as well, all to an ignored customer segment deemed too expensive (i.e. risky) by the legacy bank tech stack.
What About "Regular" Tech Companies?
It's not only Fintech companies the banks need to worry about.
Increasingly, tech companies that you don't think about as finance businesses are leveraging their customer data to offer financial products more economically than a bank could. It makes sense, it's getting easier to roll out a finance product and it's a margin lift for their businesses.
Shopify helps anybody setup a storefront on the web and sell directly to consumers, who pay a monthly fee for the service. But, did you know that they offer loans to businesses or that this is ~50% of their revenue.
That's a business loan, the same kind you can idealize is taken by a hopeful entrepreneur in the lobby of their local bank. Instead it's delivered by a technology company that makes data-driven decisions based on the businesses use of their software platform.
Technology is the new relationship banking.
Everybody Becomes a Bank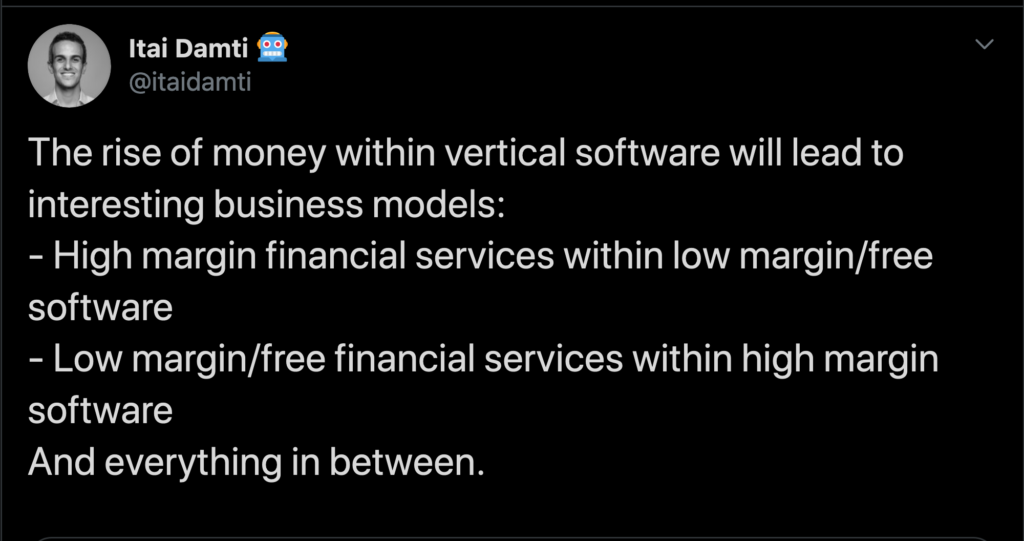 You could imagine a Shopify competitor giving away the storefront for free to attract businesses and then earn money from loans and payment processing.
We are seeing this happening already in some verticals. Divvy is an expense management platform that is free for businesses. Completely free. They earn money from the interchange fee via use of their issued credit cards and soon through loans issued to business customers.
The permutations are endless depending on the market and pressure points. This is great for customer, not so great for banks.